IMAgine April 2018

Welcome to the April 2018 edition of IMAgine, the monthly e-news of the Islamic Museum of Australia (IMA) Education Program. IMA is pleased to welcome an exciting new year with schools.
A new IMA record set in March 2018!
We set a new record of 600 students visiting IMA in one week in March 2018. Thank you to all the schools that visited us in Term 1 and to all our staff and volunteers for making this a reality.
Book Your Packages Now - Introducing our Ramadan Package!
Ramadan is about to begin in just a few weeks, and IMA has partnered with Commonwealth Bank to offer a Ramadan Package for schools.
This package is aligned to Years 3-6 Humanities and Social Sciences and lasts approximately 3 hours. Students will participate in the following activities:
CommBank Financial Literacy Workshop, focusing on the concept of saving, needs and wants, savings goals, or earning an income, depending on age group.
IMA Ramadan talk and tour of the Islamic Faith, Islamic Architecture and Australian Muslim History galleries, focusing on: habits of saving; earning an income and giving; needs and wants; delayed gratification/reward; self-control, patience and goal setting; how Ramadan has influenced community interactions in Australia; how Ramadan connects culturally diverse Muslims
IMA workshop, focusing on cooking sustainably on a budget (no cooking will take place during Ramadan).
All accompanying teachers will receive a professional learning certificate aligned to the Australian Professional Standards for Teachers.
Cost: $10 per student to cover the IMA workshop and tour.
CommBank's Financial Literacy Workshop is complimentary.
Venue: Islamic Museum of Australia, 15A Anderson Rd, Thornbury VIC 3071
Book online at https://islamicmuseum.org.au/book-your-tour
Booking periods: 16 April – 8 June 2018 (Term 2)
Pre-booking is essential.
Our Primary Package offers stimulating activities for primary students, incorporated into a dynamic guided tour of the museum. It is suitable for all primary levels. The Primary Package includes: a short presentation and intercultural icebreaker activities, a quiz based on IMA gallery content, games in the five permanent IMA galleries, including Prophetic Snap, Word Unscramble, Cultural Dress-Ups, Story Time, and Multilingual Sing Along, a reflective art activity, with the option of an additional geometric art workshop, Q&A and closing debrief.
Our Primary Package is only one of several curriculum-aligned standard packages we offer schools (https://islamicmuseum.org.au/education/education-packages). All standard packages include a presentation, tour, and activities. Delivery time for all packages is 2 hours (add 45 minutes for an additional arts workshop). These timings exclude any breaks required by a school.
Teachers with a valid teacher registration ID enter IMA for free. All other helpers accompanying students on a visit to IMA will be charged the entry fee.
Our Grandmothers - Free Open Day
Part of the Multicultural Museums Victoria 'Grandmothers' project
6 May – 18 August
Mothers, sisters, daughters, teachers, friends, homemakers, doctors, businesswomen, grandmothers, humans — warriors. Honouring the 'mothers behind our mothers', Islamic Museum's Our Grandmothers exhibition pays deference to the essence of Muslim grandmothers by displaying portraits sourced from Melbourne's Muslim communities, accompanied by stories, quotes and video recipes. Visitors are invited to celebrate the love, spirit, strength and wisdom embodied by Muslim grandmothers, and their role within Islam.
On Sunday May 6 we will be hosting a FREE open day at IMA with a range of exciting activities open to the public.
11am: Exhibition Opening: In Song With Aseel Tayah
To launch the exhibition, Aseel will be performing a series of songs of reminiscence, leading us on an evocative journey tracing memories of her Palestinian grandmother.
12pm - 1pm: Story Time with Sherene Hassan OAM
Join us for a delightful story time session for kids with emphasis on Islamic values and ethics. Suitable for ages 3+
1pm - 3pm: Recycled Flower Craft
Make your own colourful bouquet of flowers using recycled materials to brighten your day. This workshop is suitable for ages 5+ and all materials are provided.
An exhibition of contemporary Muslim life.
21 March - 8 July 2018
With the growing public debate on the status of Muslims in the west, Peter Drew's street art campaign 1.6 Billion Ways To Be Muslim playfully challenged that conversation with his unique hand printed posters. Ways To Be Muslim reinvents this campaign through the photography and videography of six young Australian Muslims as they set out to discover just how many ways there are. This topical exhibition and exciting public program shares the lives of every day Australian Muslims.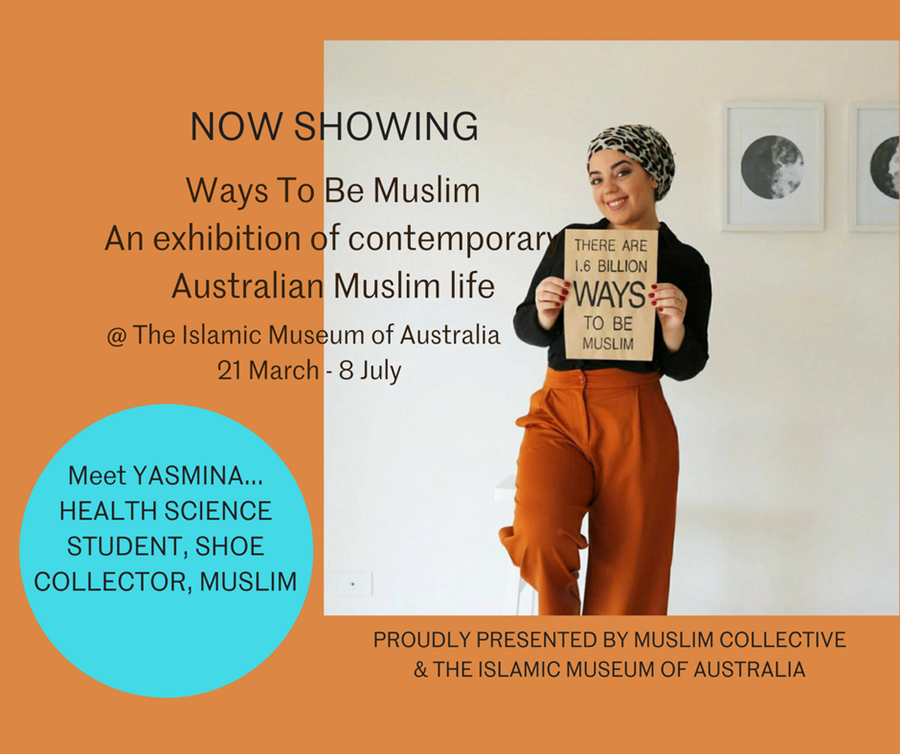 Professional Development Seminar: Contemporary Islam in Australia
Wednesday May 9
5.30pm – 8pm
FREE
Join Sherene Hassan OAM, Education Director - Islamic Museum of Australia, Reem Sweid (project manager and PhD candidate at Deakin University) and Nur Shkembi (exhibition curator and PhD Candidate at the University of Melbourne) for a professional development seminar exploring contemporary Islam in Australia. This seminar includes a fully guided tour and curator floor talk.
Suitable for primary, secondary and tertiary level teachers, or service delivery professionals working with Muslim communities.
Hosted in partnership with Muslim Collective and the Victorian State Government.
Our IMA Education Portal is almost live. Stay tuned for a separate announcement about this exciting resource for schools!
Islamic Museum of Australia
15A Anderson Rd, Thornbury VIC 3071
Open Tuesday - Saturday, 10:00 am - 4:00 pm
Tel: 1300 915 171
E-mail: admin@islamicmuseum.org.au
Website: https://islamicmuseum.org.au
The IMA Education Program is committed to supporting constructive social outcomes through education about Islam and Muslims, in Australia and beyond, and through facilitating intercultural encounters, conversations and dialogue with Muslim perspectives.
Copyright © 2018 Islamic Museum of Australia. All rights reserved.

Hi, just a reminder that you are receiving this email as an educator who has been in touch with, and/or visited, the Islamic Museum of Australia. You may unsubscribe if you are no longer interested in being kept up to date about the IMA Education Program.
The Islamic Museum of Australia, ABN 88 561 206 382, is a not-for-profit foundation and a registered charity.